Get the Ultimate Control Over Your Messages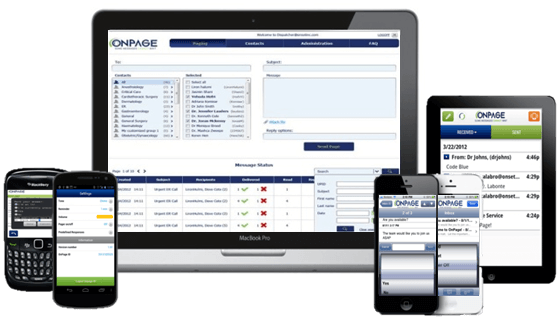 Presenting the world's most advanced web dashboard for group or individual paging, monitoring response, analyzing and reporting.
Previously named Web Management Console, the OnPage Control System allows you to manage all your company's communications easily and reliably. The system is unbelievably user friendly and intuitive, totally secure, and it allows you to be in complete control under all circumstances.
With The OnPage Control System You Can:
Send Messages from the office manager desktop and follow up with further instructions upon response
Send as many messages as you need in seconds and monitor their status in real time
Manage contact information for multiple users and groups
Create users in a unified way for easy access
Page an individual, group or escalation group
Define escalation groups to a list of individuals to ensure prompt response
Sync all OnPage contacts to all users' devices
Survey all messages within your organization
Comply With HIPAA
Wipe messages remotely
Use redundancy messaging
Inspect trails with delivery and read confirmation
Administer roles and permissions
Rely on secure and encrypted communications.
OnPage's Control System allows you to send messages alongside other available methods such as email, phone and application, all in an integrated manner. Your control system is hosted in an ultra-secure, HIPAA SAS 70 and SSAE 16 Compliant private cloud with 24×7 support and monitoring. As it is an autonomous cloud based application, no IT involvement is required for set up. Just use our secure login to access.
If you are already an OnPage customer, simply add the Web-based dashboard to your existing OnPage subscription package to gain all its extended management options.