Interns! OnPage is working with Newton South High School
OnPage® Just Hired Two New Interns.
And Guess What? They're in High School.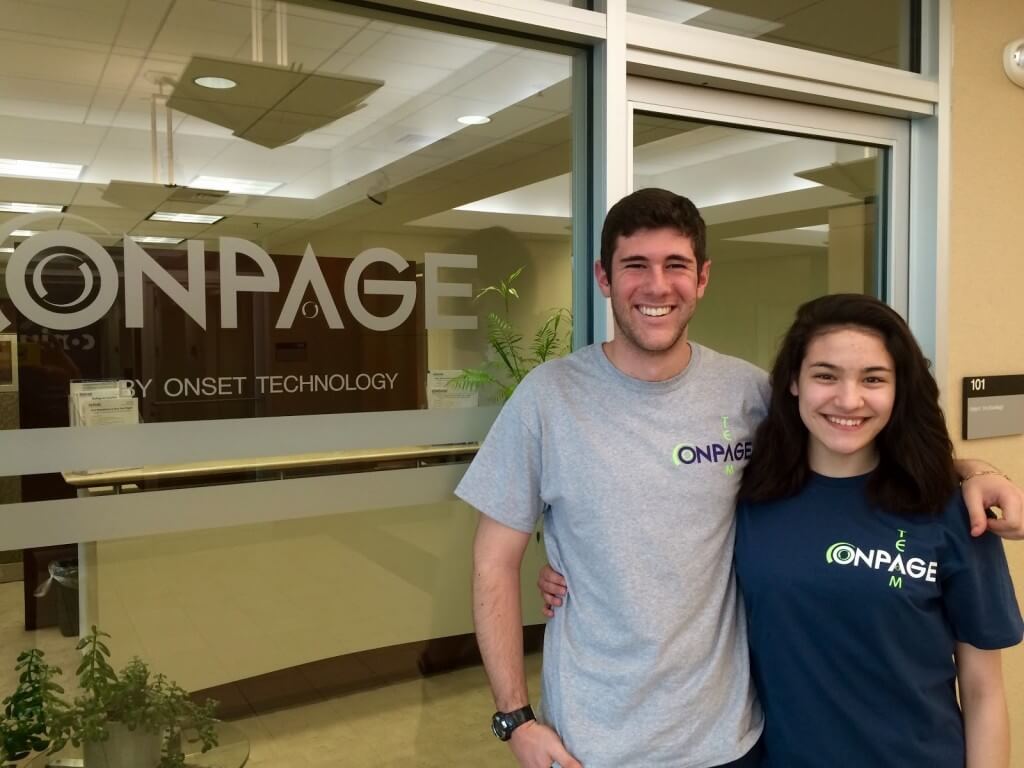 OnPage has just teamed up with Newton South High School's "Wise Individualized Senior Experience" (WISE) program.
This program allows seniors to work outside of school on a six-week project or internship of their choosing, for school credit. The WISE program focuses primarily on mentorship and real-world experience.
This year, two Newton South seniors, Sam Sharon 17, and Kristen Magliozzi 17, have joined the OnPage team as part-time interns.
Sam is currently working as a marketing intern. He has been updating the company Facebook page and Twitter feed on a daily basis. He also reported live from the Boston Marathon on the relevance of the OnPage Critical Messaging System in planning large events. He designed the "Team OnPage" Boston Strong T-Shirts, and helped create the various marketing campaigns. "I came in knowing nothing about marketing," Sam explains, "But with the guidance of my mentor and manager, I now feel like this could be a field I pursue in the future."
Kristen is OnPage's newest web design intern. She redesigned the OnPage banner for Facebook, YouTube, and Google+ pages.
Currently, she is working on informational illustrations for OnPage's website. Her task is to transform content on OnPage's site into illustrations so it is visually pleasing. "This internship has provided me an opportunity to exercise my passion for graphic design outside of the normal high school boundary, and I am so grateful to be a part of the OnPage team."
OnPage values hands-on education and mentorship, and is glad to support the public school system and high school students everywhere.
OnPage
460 Totten Pond Road
Waltham, Massachusetts
781-916-0040